Custom Sculpture Commission
At the moment I take commissions for custom sculptures. I can sculpt your pet, custom versions of my Jackalope and Skvader sculptures or any other animal or fantasy creature.
My sculptures are made of a light weight stone clay and painted with acrylic paints. Although the clay I use cures strong, these are not toys and are meant for indoor display as art pieces.

DO NOT give these sculptures to small children or pets, as pieces can break off and can be a chocking hazard.

Before putting down a commission please read through this page.
---
You can mail your commission request to
d.blaauwkamer@gmail.com
Be sure to give me as much info and description of you commission as possible, reference, photos or a character sheet are preferred.
And be sure to give me your adress to ship to and preferred contact method.
My artstyle is cute and stylised, your commission will also be in this style. I'll sculpt animals and fantasy creatures and can also do fursonas.
I retain the right to refuse your commission if I'm not comfortable with it or think my skills are not up to it.
I won't sculpt Gore and NSFW topics
. If you're not sure just contact me to ask.
Pricing
Depending on size and detail pricing may vary, below are some sculptures with prices. The more detail or size added the more they will cost. After sending me details of your commission I can give you an estimate of the price.


Small Jackalope or Skvader stands around 6cm tall, starting at € 50 (1st picture)


Large Jackalope or Skvader stands around 8cm tall, starting at € 70 (2nd picture)


Pet Portrait standing around 8cm tall, starting at € 80 (3rd and 4th picture)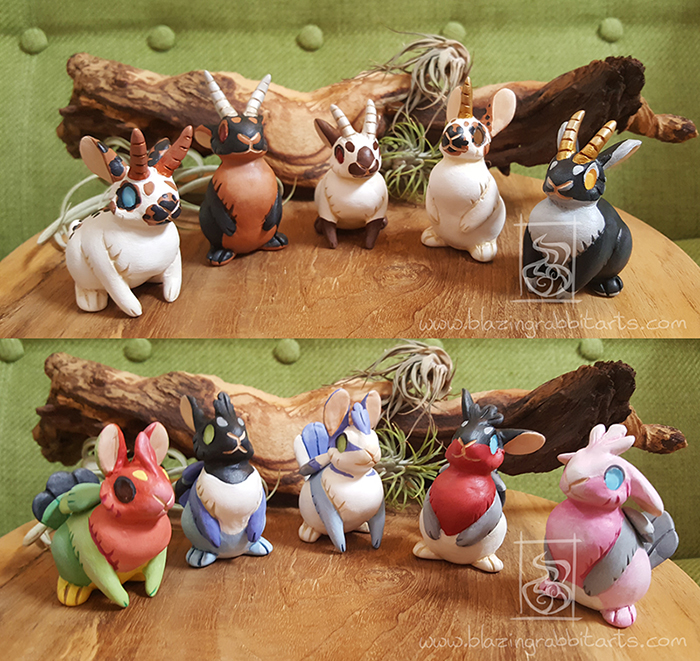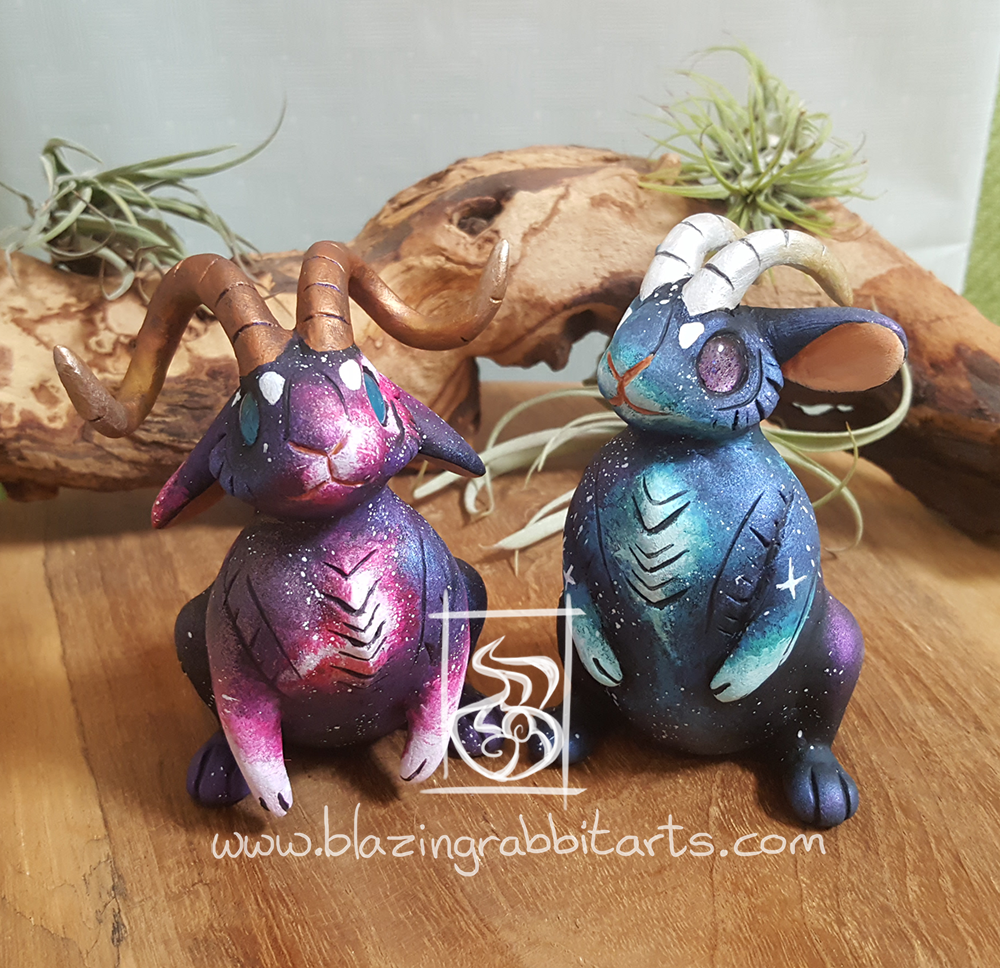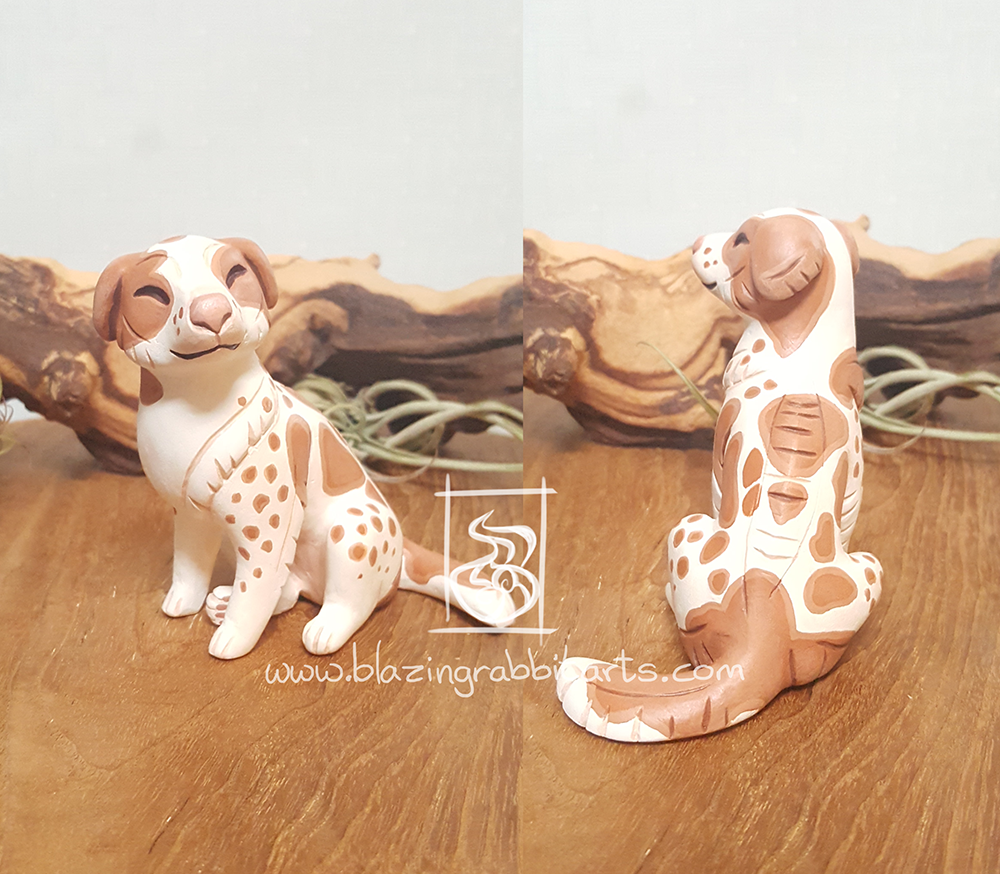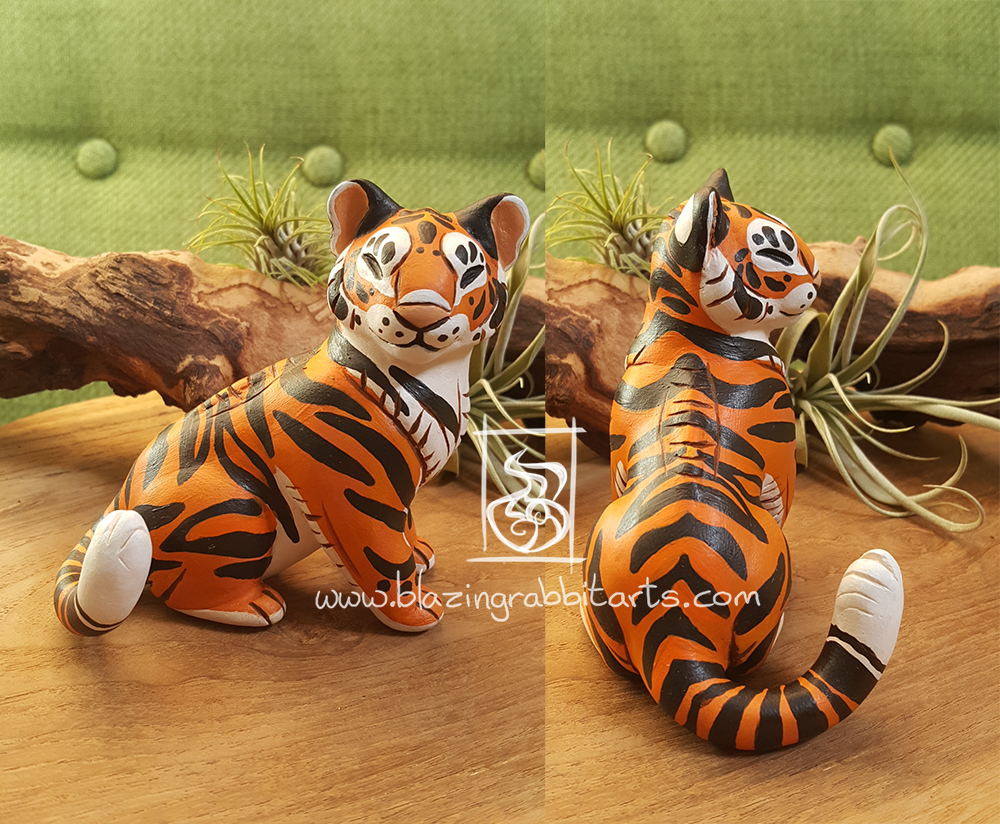 Sculpting Process
I take my mental health seriously and give myself time during my sculpting to take mental health breaks, this is why I give myself a timeframe of at least 4 weeks to finish a commission.
Depending on size and detail, production and shiping time may vary. I will give you an estimate of how long I will need to finish your commission when I have al the details.

During the sculpting I will take photos of every stage of production wich you will receive by email, during this process you'll be able to provide feedback on your commission. Small changes are possible for free.
If you want me to make a big change during the process that takes a lot of extra time, like redoing most of the sculpture or adding more details, it will cost extra. I will let you know before I continue on your commission if this will be the case.
Payment Info
Payments are in advance by either Paypal or Bank Transaction, you will receive all the details on the invoice.
I will start working on your commission when I have received the payment.

I don't do refunds if I have already started on your commission. If there is something wrong just send me a message and we can try to figure something out.
Shipping
All orders are send via PostNL and all shipping costs are the ones listed on their website. At the moment I won't be able to send to the folowing countries: Afghanistan, Bhutan, Ecuador, Honduras, Laos, Libia, North Korea, Salomon Islands, Syria, Timor Leste, Turkmenistan, Yemen

Inside the Netherlands
Price for standard tracked shipping in the Netherlands € 6,95
Balearic Islands, Belgium, Germany, France, Italy, Luxembourg, Spain, Sweden, Monaco
Small Parcel (up to 2kg) with tracked shipping € 9,70
Austria, Denmark
Small Parcel (up to 2kg) with tracked shipping € 10,20
Portugal, Azores, Madeira
Small Parcel (up to 2kg) with tracked shipping € 11,70
Albania, Bosnia and Herzegovina, Guernsey, Isle of Man, Kosovo, Liechtenstein, Moldavia, Montenegro, North Macedonia, Vatican City, Svalbard and Jan Mayen
Small Parcel (up to 2kg) with tracked shipping € 12,00
United Kingdom, Ireland
Small Parcel (up to 2kg) with tracked shipping € 12,20
Andorra, Bulgaria, Campione d'Italia, Canary Islands, Croatia, Cyprus, Czechia, Estonia, Finland, Greece, Hungary, Latvia, Lithuania, Malta, Poland, Romania, Slovakia, Slovenia, Åland Islands, Andorra, Belarus, Faroe Islands, Gibraltar, Greenland, Iceland, Jersey, Norway, San Marino, Serbia, Switzerland, Turkey, Ukraine
Small Parcel (up to 2kg) with tracked shipping € 13,20
South Africa
Small Parcel (up to 2kg) with tracked shipping € 18,00
Algeria, American Samoa, American Virgin Islands, Angola, Anguilla, Antarctica, Antigua and Barbuda, Argentinia, Armenia, Aruba, Ascension, Azerbaijan, Bahamas, Bahrein, Bangladesh, Barbados, Belize, Benin, Bermuda, Bolivia, Bonaire, Saba and Saint Eustasius, Botswana, Bouvet, British Indian Ocean Territory, British Virgin Islands, Brunei, Burkina Faso, Burundi, Cambodia, Cameroon, Cape Verde, Cayman Islands, Central African Republic, Chad, Chili, Christmas Island, Coconut Islands, Colombia, Comores, Congo-Brazzaville, Congo-Kinshasa, Cook Islands, Costa Rica, Côte d'Ivoire, Cuba, Curaçao, Djibouti, Dominica, Dominican Republic, Egypt, El Salvador, Equatorial Guinea, Eritrea, Ethiopia, Falkland Islands, Fiji, French Polynesia, French Southern and Antarctic Lands, Gabon, Gambia, Georgia, Ghana, Grenada, Guam, Guatemala, Guinee, Guinee Bissau, Guyana, Haïti, Heard and McDonald islands, India, Iran, Iraq, Jamaica, Jordan, Kazachstan, Kenia, Kiribati, Kuwait, Kyrgyzstan, Laccadives, Lesotho, Macau, Madagaskar, Malawi, Maldives, Mali, Marshall Islands, Mauritania, Mauritius, Mexico, Micronesia, Mongolia, Montserrat, Mozambique, Myanmar, Namibia, Nauru, Nepal, New Caledonia, Nicaragua, Niger, Nigeria, Niue, Norfolk, Northern Mariana Islands, Oman, Pakistan, Palau, Palestina, Panama, Papoea New Guinee, Paraguay, Peru, Philippines, Pitcairn Islands, Puerto Rico, Qatar, Rwanda, Saint Helena, Saint Kitts and Nevis, Saint Lucia, Saint Martin, Saint Vincent and the Grenadines, Saint-Barthélemy, Samoa, Sao Tomé en Principe, Senegal, Seychelles, Sierra Leone, Somalia, South Georgia and the South Sandwich Islands, South Sudan, Sri Lanka, Sudan, Suriname, Swaziland, Taiwan, Tajikistan, Tanzania, Togo, Tokelau, Tonga, Trinidad and Tobago, Tristan da Cunha, Tunesia, Turks- en Caicoseilanden, Tuvalu, Uganda, United States Minor Outlying Islands, Uruguay, Uzbekistan, Vanuatu, Venezuela, Vietnam, Wallis and Futuna, Western Sahara, Zambia, Zanzibar, Zimbabwe
Small Parcel (up to 2kg) with tracked shipping € 19,00
Canada, United States
Small Parcel (up to 2kg) with tracked shipping € 20,00
China, Hong Kong, Japan
Small Parcel (up to 2kg) with tracked shipping € 20,25
Brazil
Small Parcel (up to 2kg) with tracked shipping € 20,50
Australia, Ceuta & Melilla, French Guyana, Guadeloupe, Indonesia, Israël, Libanon, Liberia, Malaysia, Marocco, Martinique, Mayotte, New Zealand, Réunion, Russia, Saint-Pierre and Miquelon, Saudi Arabia, Singapore South Korea, Thailand, United Arab Emirates,
Small Parcel (up to 2kg) with tracked shipping € 21,00
Taxes and Import Duty
Buyers are responsible for any customs and import taxes that may apply. I'm not responsible for delays due to customs.
---
I try to recycle as much of my packaging as I can and use recyclable materials as much as possible. Please reuse or recycle shipping materials when possible :)
If you have any good tips for me just let me know.